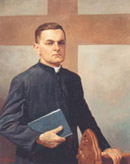 Knights of
Columbus
4th Degree
Samuel Cardinal
Stritch Assembly
#205

Samuel Cardinal Stritch Assembly #205
Faithful Navigators Page

Faithful Navigator

Joseph C Santschi




Greetings Worthy State Officers, Sir Knights, Grand Knights, and Financial Secretaries

June 24th, 2022

Thank You


Brothers,
It has been an honor to have served you as your faithful Navigator. I have learned so much about the Knights of Columbus from you members of Cardinal Stritch Assembly. This year would have gone so differently had it not been for certain brothers. I would like to recognize some of you.

Our Comptroller Michael Schnabel who was the first person I would call or txt if I had questions. I'm sure I drove him nuts a few times. Thank you Michael.

Stan Wiejak our Publicist. If It was not for you I would not have sent out informational blasts or meeting reminders in a timely fashion. I appreciate your dedication.

Louis Krawczyk for keeping our books.

I would like to thank my officers Bob, Joe and Jay for showing up for me.

I would like to thank John Muldoon for showing me what it means to be a Knight.

Thank you to the Grand Knights that invited the Assembly into their councils for our meetings.

We at Stritch Assembly may not follow all the rules, but we get things done.

And Lastly I want to congratulate our newest Faithful Navigator Joe Frontera and his newly elected Officers. I know that they will carry on the tradition set before them.


Fraternally yours,

Joseph C Santschi
Faithful Navigator
18524 Highland Ave
Homewood, IL 60430

Click >>HERE<< to send me an email.


Stritch Assembly
Step Outs
Click >>HERE<<







Request
Honor Guard
(Step Out)
Click

>>HERE<<






Stritch Assembly


Photo Gallery
Click

>>HERE<<






Normandy
Then and Now



Click

>>HERE<<






The Vietnam
Veterans Virtual
Memorial Wall



Click

>>HERE<<


The 4th Degree
Masters Web Site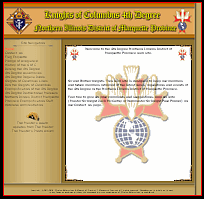 Click

>>HERE<<

Knights of Columbus Councils & 4th Degree Assembly's.
Would you like your own Web Site?.
Click >>HERE<<

Copyright
2010 -2022
Samuel Cardinal
Stritch Assembly #205
& Piraino Enterprises