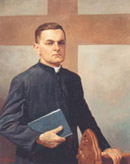 Knights of
Columbus
4th Degree
Samuel Cardinal
Stritch Assembly
#205

Samuel Cardinal Stritch Assembly #205
Faithful Navigators Page

Faithful Navigator

Joseph C Santschi




Greetings Worthy State Officers, Sir Knights, Grand Knights, and Financial Secretaries

December 7th, 2021


Many Christian communities around the world annually observe the Feast of the Immaculate Conception on December 8. This day is a holy day of obligation in which many Christians, particularly of the Catholic faith, attend special church services for this occasion.

Theological controversy surrounded the Feast of the Immaculate Conception for centuries. However popular celebration of this holiday dates back to at least the eighth century. The argument related to the meaning of the word "immaculate", which in this context refers to the belief that Jesus' mother Mary was conceived without original sin, according to Christian belief.

Many theologians throughout Christian history, including St. Thomas Aquinas, questioned the Immaculate Conception. It remained open for debate for many years until Pope Pius IX proclaimed it to be an essential dogma in the Catholic Church on December 8, 1854. The written document on this is known as the Ineffabilis Deus. Since then, the Feast of the Immaculate Conception celebrates the belief that Mary was born without sin and that God chose her to be Jesus' mother. Many Anglicans in the world also hold this belief.



Fraternally yours,

Joseph C Santschi
Faithful Navigator
18524 Highland Ave
Homewood, IL 60430

Click >>HERE<< to send me an email.


Stritch Assembly
Step Outs
Click >>HERE<<







Request
Honor Guard
(Step Out)
Click

>>HERE<<






Stritch Assembly


Photo Gallery
Click

>>HERE<<






Normandy
Then and Now



Click

>>HERE<<






The Vietnam
Veterans Virtual
Memorial Wall



Click

>>HERE<<


The 4th Degree
Masters Web Site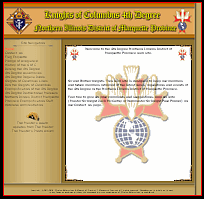 Click

>>HERE<<

Knights of Columbus Councils & 4th Degree Assembly's.
Would you like your own Web Site?.
Click >>HERE<<

Copyright
2010 -2022
Samuel Cardinal
Stritch Assembly #205
& Piraino Enterprises