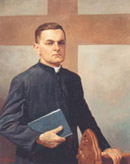 Knights of
Columbus
4th Degree
Samuel Cardinal
Stritch Assembly
#205

Samuel Cardinal Stritch Assembly #205
Faithful Navigators Page

Faithful Navigator

Joseph Frontera

Greetings Worthy State Officers, Sir Knights, Grand Knights, and Financial Secretaries

November, 2022

Now is the time to start getting your form 4's to us for the upcoming exemplification in Feb 2023. I am looking for 3 new 4th degree Sir Knights from each active council. In order for us to achieve Star Assembly we need 43 new 4th degree members. This is very doable if we can recruit from within and talk to those who are currently 1st, 2nd, and 3rd degree members. Find out what is
holding them back from taking their Patriotic Degree? (Is it the uniform, a problem with a brother knight, a problem with a priest)

At the planning meeting for the Exemplification we were all asked for our possible number of candidates;
I stated that 10-15 was a minimum but 25-30 was possible if we all did our part.

Do your part please. Lets show up with 25-30. The Master needs 105 to brake even and even at that the Assembly's cost will be $325 plus $24 per candidate.
Let be the best we can be and do more than the minimum.
Click >>HERE<< to send me an email.


Stritch Assembly
Step Outs
Click >>HERE<<







Request
Honor Guard
(Step Out)
Click

>>HERE<<






Stritch Assembly


Photo Gallery
Click

>>HERE<<






Normandy
Then and Now



Click

>>HERE<<






The Vietnam
Veterans Virtual
Memorial Wall



Click

>>HERE<<


The 4th Degree
Masters Web Site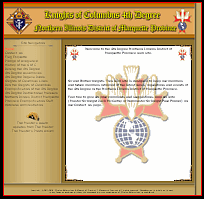 Click

>>HERE<<

Knights of Columbus Councils & 4th Degree Assembly's.
Would you like your own Web Site?.
Click >>HERE<<

Copyright ©
2010 -2023
Samuel Cardinal
Stritch Assembly #205
& Piraino Enterprises