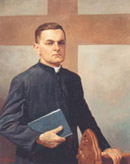 Knights of
Columbus
4th Degree
Samuel Cardinal
Stritch Assembly
#205

Samuel Cardinal Stritch Assembly #205
Faithful Navigators Page

| | |
| --- | --- |
| Faithful Navigator Jay Scarborough | July, 2023 |

Greetings Worthy State Officers, Sir Knights, Grand Knights and Financial Secretaries.

Welcome to the upcoming year and thank you for giving me the privilege of serving this Assembly as your Navigator for the 2023 – 2024 fraternal year. Moving forward we will strive to continue the successes that PFN Joseph Frontera has achieved, and I look forward to continuing making progress on Joe's gains over the next twelve months.

My main goal for this year is to acquire one new Fourth Degree Knight under each council that is under the Stritch Assembly. I also want to have greater participation from our members for the events we navigate as an assembly.

I want us, as an assembly, to put our best effort forward into achieving these goals and I believe the next 6 months will be crucial for success in our endeavors.

We have a busy fraternal year ahead and here are the main events that will be coming up for the next 6 months:

• August 8th – White Sox Game at Guaranteed Rate Field Chicago, IL

• August 13th – *Installation of Officers and PFN Luncheon at Lencioni's 3325 Glenwood-Dyer Rd Lynwood, IL Time:1:00 PM Meetup - 2:00 PM Luncheon

• September 15th thru 17th – ID Drive (Collecting funds for the Intellectually Challenged) Across State Effort

• Sept 28th – *Clergy Night at Mama Vesuvio – 6361 W College Dr., Palos Heights, IL

• October 9th – *Columbus Day Mass and Parade – TBA

• October 19th – *Friendship Dinner at Gaelic Park – 6119 147th St., Oak Forest, IL

• November 1st – *Memorial Mass & Turkey Shoot – St. Joseph's Church – 17951 Dixie Hwy, Homewood IL

All these events are on the Assembly's website and flyers will be given at business meetings with starting times and prices.

As a reminder, all Sir Knights are requested to wear the new uniform if they have it. All other Sir Knights and Brother Knights are required to wear a jacket, tie and yellow baldric. – Any event with a * you must wear your uniform.

Please, as always, bring a Brother Sir Knight with you to our business meetings.

God Bless all the Sir Knights and Brother Knights for your hard work and dedication and let us have an amazing year!
VIVAT JESUS !!!

Sincerely Yours in Christ,

Faithful Navigator
Click >>HERE<< to send me an email.


Stritch Assembly
Step Outs
Click >>HERE<<







Request
Honor Guard
(Step Out)
Click

>>HERE<<






Stritch Assembly


Photo Gallery
Click

>>HERE<<






Normandy
Then and Now



Click

>>HERE<<






The Vietnam
Veterans Virtual
Memorial Wall



Click

>>HERE<<


The 4th Degree
Masters Website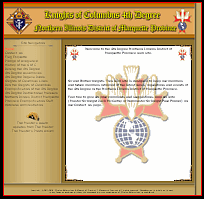 Click >>HERE<<





Would you like your own Website?
Knights of Columbus Council & 4th Degree Assembly Templates.
Click >>HERE<<

Copyright ©
2010 -2023
Samuel Cardinal
Stritch Assembly #205
& Piraino Enterprises